At AtomicJar, we've always believed that our community is the heart and soul of Testcontainers. Over the years, we've been fortunate to work with many leaders in this community: individuals whose voices have guided us, whose feedback has shaped our libraries, and whose dedication to Testcontainers has inspired us all.
Today, we're excited to announce the launch of the Testcontainers Community Champions program. We love that we can recognize and celebrate these extraordinary people who have both mastered Testcontainers and made significant contributions to our community.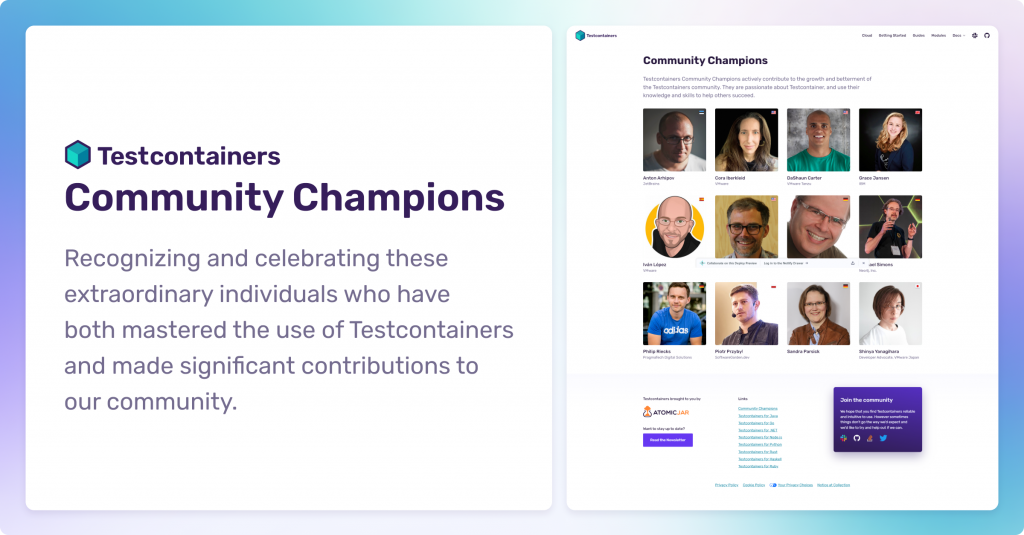 Testcontainers Community Champions are passionate about Testcontainers and use their knowledge and skills to help others succeed.
Every Testcontainers Community Champion helps us succeed as a welcoming community. And at AtomicJar we're grateful for your passion, leadership, feedback, and readiness to help and mentor others.
Meet the Champions
Today, we're announcing the program and the initial set of champions.
They showed their expertise in Testcontainers through their projects, answers to community questions, and speaking at events. They advocated for Testcontainers by promoting its mission and increasing awareness of the libraries. They provided invaluable feedback and insight, serving as a bridge between our user community and our team. And perhaps most importantly, they have mentored others, helping them learn, grow, and succeed in bettering integration testing practices.
There are more outstanding voices in the community, and we will expand the program in the future! But right now it's about these people: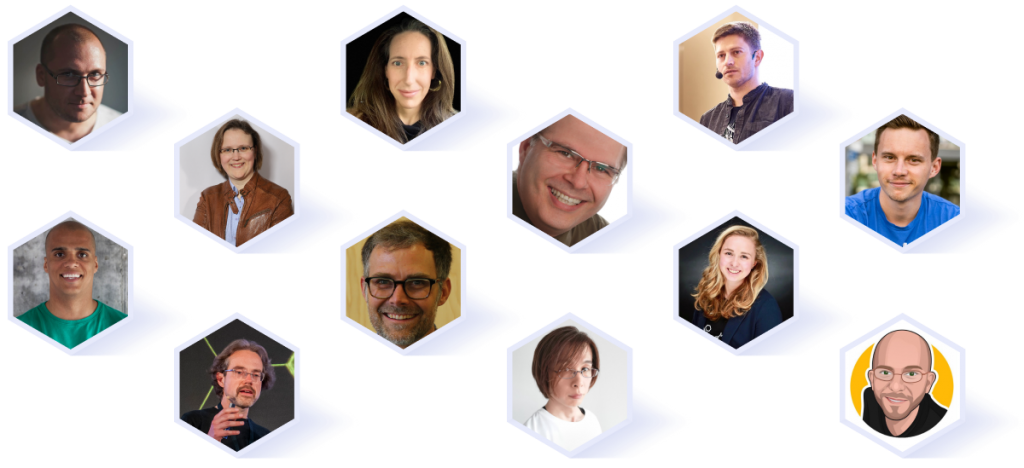 Connect and Learn
We encourage you to connect with our Community Champions. Whether you're new to Testcontainers or an experienced user, these champions are here to share their knowledge, answer your questions, and help you get the most out of Testcontainers. They are brilliant examples of the Testcontainers community, and we're confident that their expertise and passion will inspire you.
A Big Thank You
Finally, we want to say a big thank you to all our Community Champions. Your dedication, leadership, and passion for Testcontainers have significantly impacted our community. We're excited to amplify your voice and look forward to seeing how you'll continue to lead and inspire.
Welcome to the Testcontainers Community Champions program. We're thrilled to have you on board!